Le Chateau Restaurant & Bar is located in Grand Anse area (Mont Tout) adjacent to the Grand Anse Shopping Center and across the street from the Grenada Grand Beach Resort. It's a great place to have a bite to eat and knock back a few drinks Carib Beers.
The big plus is that they open until midnight. It's one of the few places you can depend on to get a decent meal past 10PM. Very handy if you arrive on a late flight and you're starving. Its only 10 minutes from Point Salines International.
There is only one downside to Le Chateau that I hear often (see below)
Good Food Choices…Crab Back Anyone?
I was pleasantly surprised when I flipped open their menu and saw Crab Back listed. I totally forgot the last time I had this Grenadian treat. If you like crab cakes you will probably enjoy Crab Back… think of it as crab cakes Grenadian style, made from Grenadian Crabs and served in the shell or back of the crab.
Throw in two slices of hot garlic bread, a side of lime, and you are set… oh don't forget a cold Carib Beer.
Here are some pictures of Le Chateau's menu, compliments my friend Kris over at MyMoosie. All prices are in local currency (EC$)… where US$1.00 = EC$2.68.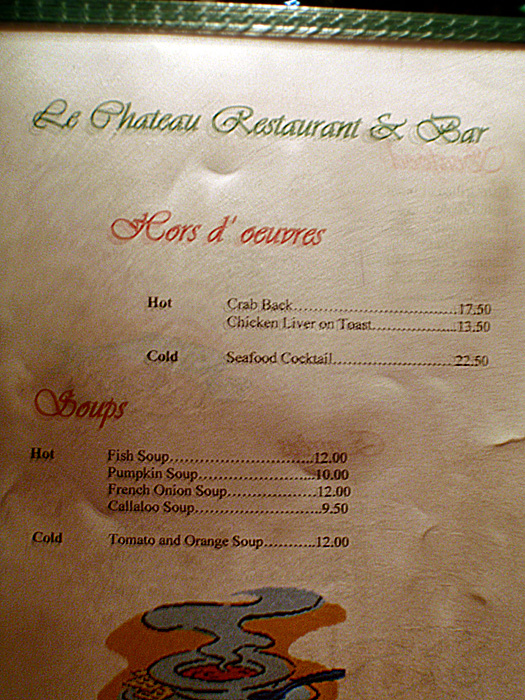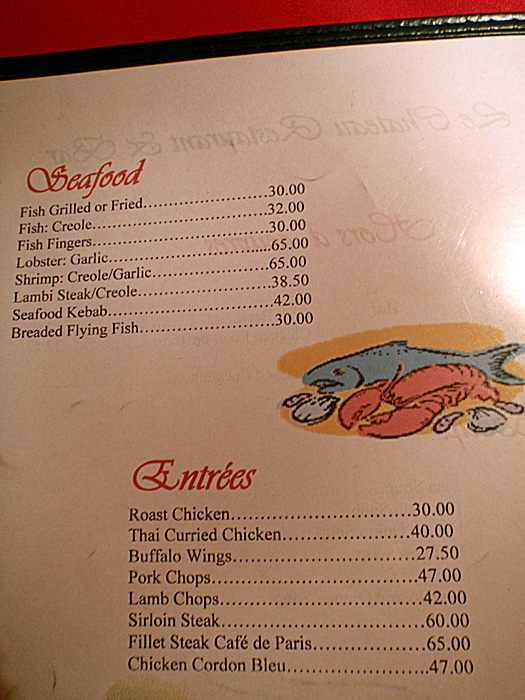 Downside?… They're Slow!!
The one complaint I hear from other visitors is that they're slow. That was not my experience, but then again when I am in Grenada, and the Caribbean, I automatically switch to island time.
So don't let that stop you, give 'em a try, and leave a comment below so the rest of us know what's the hot items on the menu.